Electron Beam Technologies Webinar – March 22, 2023
Seminar
March 01, 2023
On March 22 (Wednesday) from 15:00 JST (+9GMT), NHV Corporation will hold its first online seminar in English.
"Electron beam processing" uses the energy of high-speed electrons (EB:electron beam) to induce a chemical reaction in materials and is used in a variety of applications, including improving the heat resistance of polymeric materials, curing paints and resins, adding hydrophilic functions and sterilization.
In this seminar, Prof. Satoko OKUBAYASHI, Kyoto Institute of Technology, will give a lecture on electron beam cross-linking and electron beam graft polymerization techniques.
Our staff will also present the benefits of introducing electron beam equipment and an overview of the equipment.
There will also be a presentation on the use of Electron Beam equipment in Thailand.
◇◆◇ Webinar information ◇◆◇
Date:
March 22 (Wed), 2023
Time:
15:00p.m – 16:30pm (Japan Standard Time, GMT +9 )
(Connections available 15 minutes in advance.)
Location:
Online via Zoom
Participation Fee:
Free entry
Language:
English only
Registration:
Please click the button and fill out the application form by March 21, 2023(Tuesday).
After registration, you will receive an e-mail with the webinar URL.

* We reserve the right to refuse applications from those who belong to competing
companies.
◇◆◇ Webinar overview ◇◆◇
Please click to enlarge.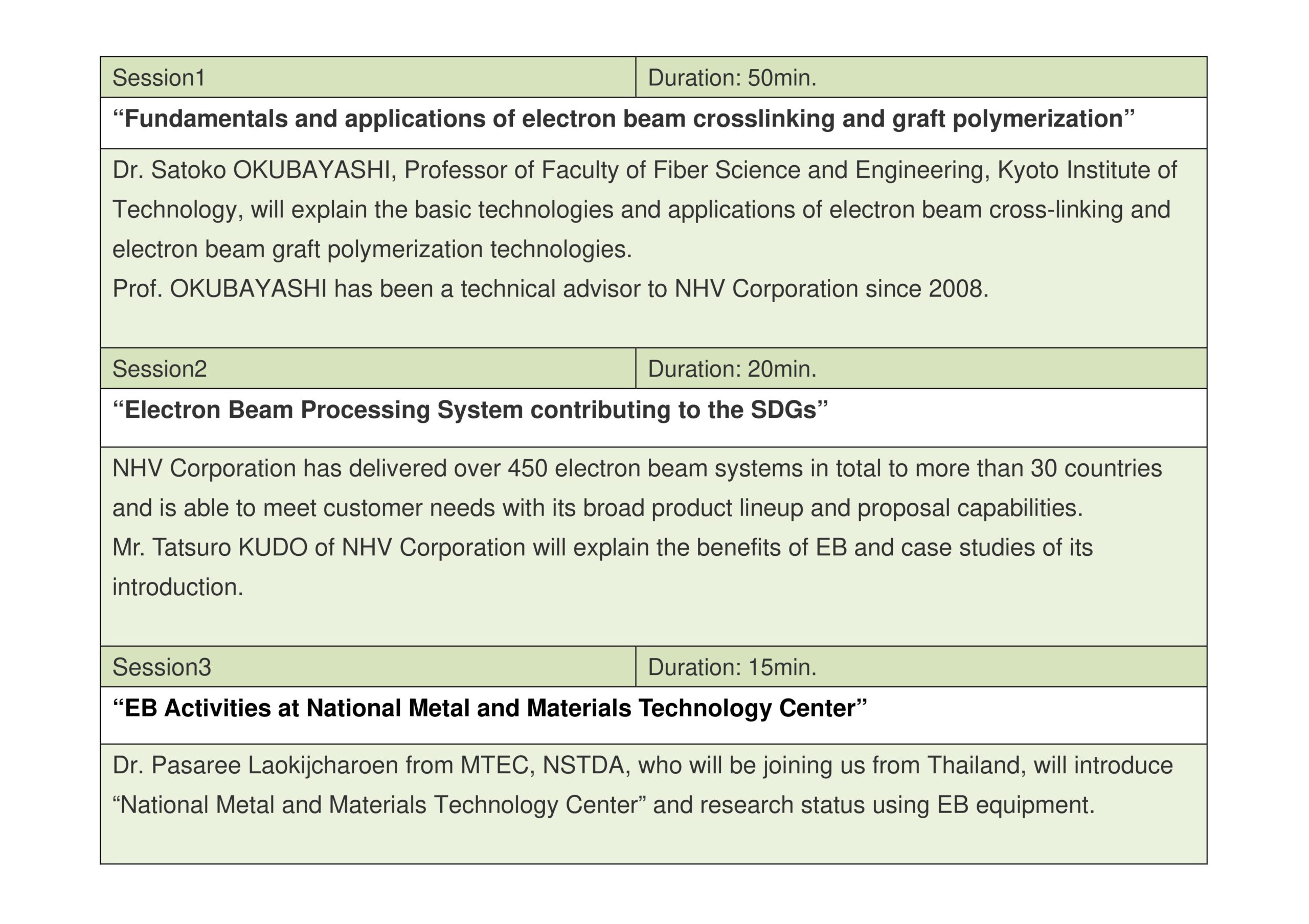 ◇◆◇ This webinar will provide: ◇◆◇
Improved properties of polymeric materials
Case studies of electron beam processing technology
Electron beam cross-linking and electron beam graft polymerization technologies.
Principle of Electron beam equipment
Moderated by Ms. LEE Youngae, Sales & Marketing Dept., NHV Corporation
---
[Inquiry]
NHV Corporation